"The New Rules of Marketing & PR"
by David Meerman Scott
ISBN:  978-0-471-37928-8
Becoming a  professional book reviewer or critic isn't my desire, nor a core focus of this site.  Just in case you wonder;).  However I have been surprised from time to time by the people indicating they appreciate my write-ups.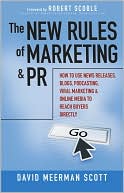 If you are even remotely attuned to what's going on in the world around us, particularly the online world, you have likely developed your own hodge-podge of knowledge.  Perhaps you have picked up bits o' info about viral marketing, online media or 'social' media, blogging, podcasting, and the like.  Quite likely, you're also wondering about the difference between online media, social media, and social networking.  If so, you're also curious about how they intertwine; how to leverage them; and, what the heck does it mean to you!
David Meerman Scott has put together a 286 page book that does a masterful job of showing the reader just how all the pieces can work together.  For instance, people wonder why he uses 'Meerman,'
instead of just, 'David Scott,' when identifying himself.  Easy, Meerman distinguishes him in the eyes of SEO (search engine optimization) in a world where there are thousands of other 'david scotts.'
I particularly enjoyed the book, not only for how he weaves things together, but also for his welcoming approach.  He writes as much for the interested neophyte, encouraging them to 'just get started,' as he does those more experienced.  The greatest value though, for me, was having someone simply put it all together, delve a bit deeper than usual, while also providing a fair amount of reference material for later investigation.
This is an increasingly popular book on the topic of social media.  Its even being used as a course text in university courses, such as Derek Merhaban's Michigan State University course, New Media Drivers License.
So, enjoy, go forth, (buy it) and read!